Boat Package Pricing
Lund Boat Packages
Prices reflect options listed only
Prices include freight and prep
Prices do NOT include sales tax or fees*
2023 1675 Adventure SS
Mercury 60 4-stroke outboard motor
Cobalt blue with silver stone bottom
Vinyl main floor
One additional seat (three total)
Galvanized bunk trailer with load guides, spare tire & plastic bunk upgrade
Tilt steering with seat slider
Travel cover
$31,499 plus sales tax and applicable fees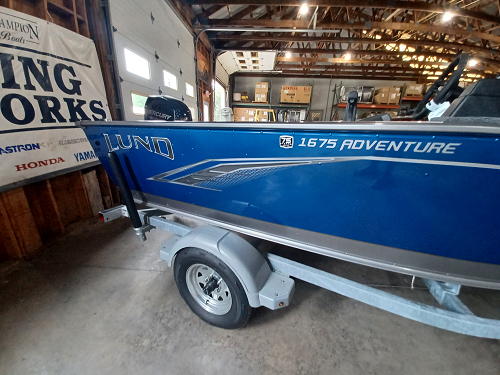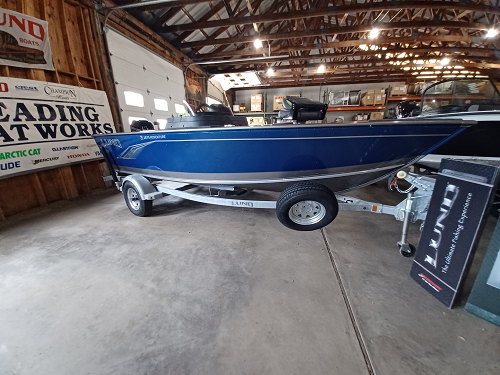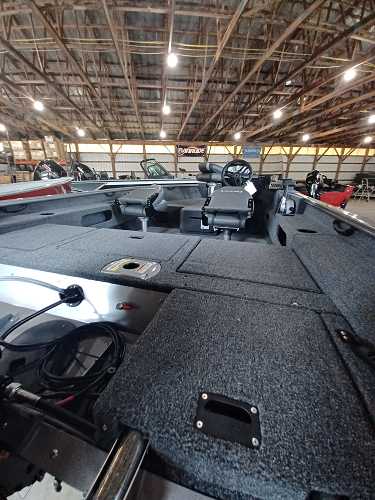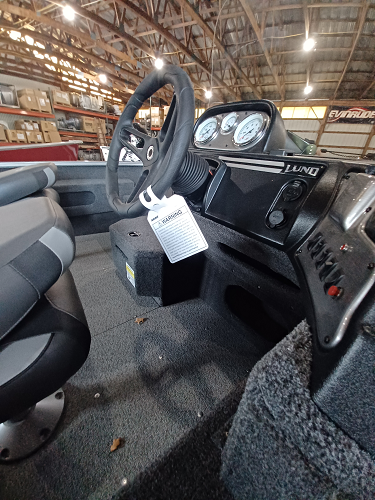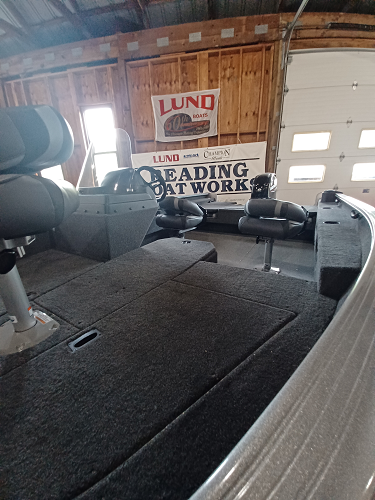 2023 1600 Fury SS
Red Freeboards
Blw Troller Harness
Fuel Tank Hider
3rd Seat & Pedistal
Vinyl Main Floor
Starboard Console w/ Windshield
Galvanized 1500 LB Trailer
Plastic Bunk Upgrade
Spare Tire & Bracket
Load Guides
Mercury 25elpt V2
$20,595 plus sales tax and applicable fees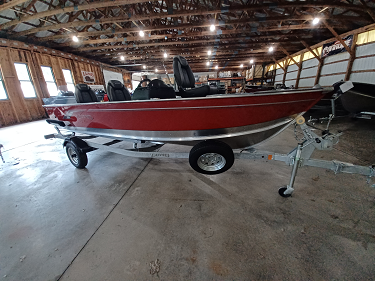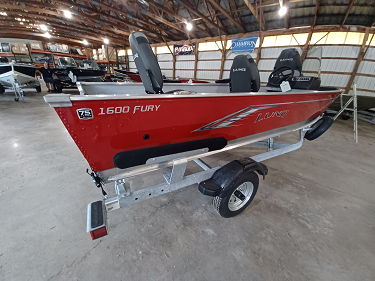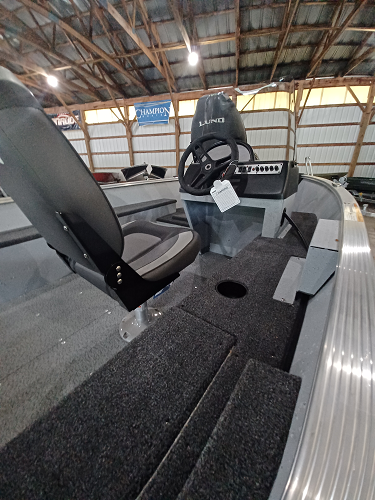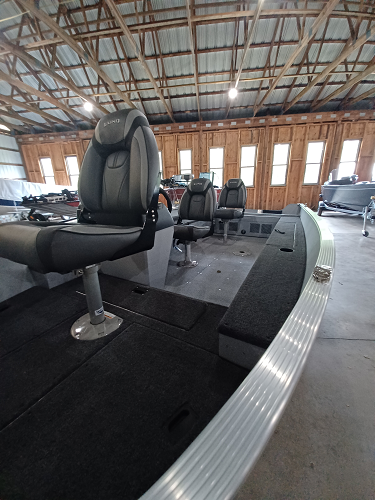 2023 1650 Angler SS
Gunmetal Boat
Vinyl Main Floor
Third Seat & Pedistal
Mercury 40 ELPT Power Trim
Lundguard Black Bunl Trailer
Load Guides
$22,182 plus sales tax and applicable fees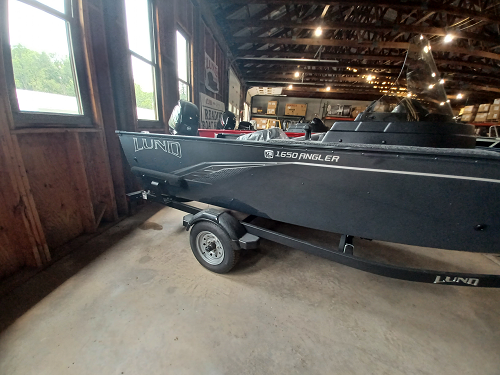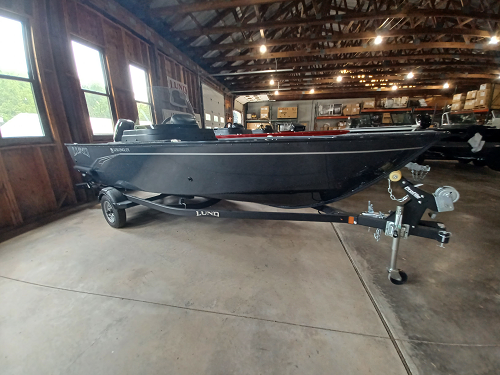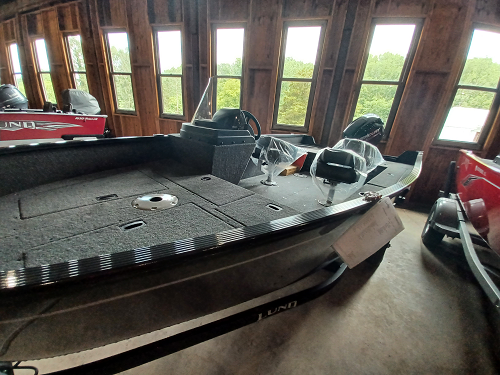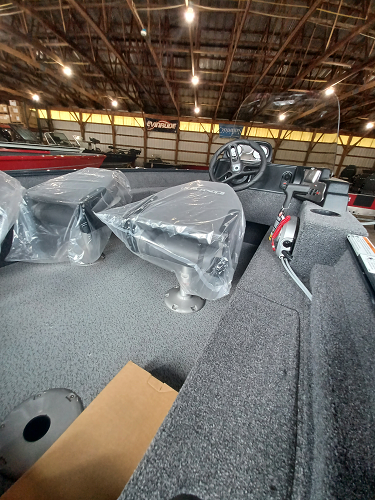 2023 1650 Angler SS
Cobalt Blue Boat
Vinyl Main Floor
Tilt Steering
Helm Seat Slider
Travel Cover
Galvanized Bunk Trailer
Load Guides
Plastic Bunk Upgrades
Spaer Tire & Bracket
Mercury 50ELPT Power Trim
$25,250 plus sales tax and applicable fees
2023 1650 Rebel XL SS
All Red Boat
Vinyl Main Floor
Tilt Steering
Helm Seat Slider
Galvanized Bunk Trailer
Load Guides
Spare Tire & Bracket
Plastic Bunk Upgrades
Mercury 60 ELPT Power Trim
$26,905 plus sales tax and applicable fees
2023 1875 Impact XS
Gunmetal Freeboards / Silver Stone Bottom
Raised Red "LUND" on Freeboards
Vinyl Main Floor
Pro Ride & Air Ride Upgrades
Helm Seat Slider
Ski Package ( SKI Tow, Bow Cushions )
Complete Sport Top Set
On The Go Red Storage Port & Starbord
Top Hider
Travel Cover
Under Console Drawers Port & Starbord
Galvanized Bunk Trailer
Plastic Bunk Upgrade
Mercury 115 EXL PT Pro XS
$55,250 plus sales tax and applicable fees
2023 1875 Crossover XS
White Deck & Bottom / Black Freeboards
Raised Silver "LUND" on Freebirds
Charcoal Graphics Package
Air Ride Seat Upgrade
1 Additional Air Ride Seat Assembly
AFT Platform Cushion
Vinyl Main Floor
Under Console Drawers - Port & Starbord
Rockford Stereo Upgrade with 4 Speakers
Sport Top with Walkway Curtain
Travel Cover
Galvanized Bunk Trailer
Plastic Bunk Upgrade
Wheel Upgrade
Stainless Steel Prop
Hydraulic Steering
Mercury 150 XL Pro XS
$62,995 plus sales tax and applicable fees
2022 1975 Renegade
Mercury 150 Pro XS
Stainless Steel Prop
Hydraulic Tilt Steering
Black Boat With Vinyl Main Floor
Helm Seat Slider
Port Console
Red Graphics Package
Bunk Shore Armr Tailer
$41,995 plus sales tax and applicable fees
2024 1875 PRO V BASS XS
Mercury 150XL PRO XS 4 Stroke outboard motor
Cobalt blue
Vinyl main floor
Hydraulic steering standard
Bike seat with airride pedestal
Bow step ladder painted
Bunk trailer lungard black
Drotto painted
Mercury analog gauges
Mercury mechanical engine control
Plastic bunk upgrade
Port console with wind screen
Primary engine - not installed
Stainless prop
Travel cover
Wheel upgrade Lunguard (single axle)
$59,953.75 plus sales tax and applicable fees
2024 1600 Fury Tiller
Cobalt blue freeboards
Complete vinyl floor
1 additonal proride seat with solid pedestal
Bow trolling motor harness w/ plug
Fuel tank hider
Galvanized 1500 lb bunk trailer w/ swing tongue & spare tire
Load guides galvanized
Plastic bunk upgrade
Transhield cover
Honda 20 4stroke w/ power tilt
$19,092.50 plus sales tax and applicable fees
2024 2075 Pro V Bass XS
Mercury 250xl Pro xs Dts 4 stroke
Black
Vinyl main floor
Hydraulic steering stndard
Bike seat with airride pedestal
Bow step ladder painted
Brakes, second axle
Custom bunk Lunguard trailer diamond plate
Drotto painted
Mercury Dts-digital throttle shift
Mercury smartcraft gauges
Port console w/ windscreen
Primary engine - not installed
Red\chrome raised LUND on freeboards
Remove extra junction box
Stainless prop
Travel cover
Vessel view mobile
$80,115.00 plus sales tax and applicable fees
2023 1775 Impact SS
Mercury 115exlpt
Arctic white with silver stone bottom
Vinyl main floor
One additional proride seat w/ pedestal
Aluminim prop
Galvanized bunk trailer
Helm Slider Solid Mainstay
Luxury package proride upgrade - ski tow
Steering wheel upgrade
Mercury analog gauges
Mercury mechanical engine control
On the go rod storage port
On the go rod storage starboard
Plastic bunk upgrade
Primary engine - not installed
Sport top with walkway curtain
Tilt steering upgrade
Top hider ( not for bimini top)
Travel cover
Under console drawers starb & Port
$50,847.50 plus sales tax and applicable fees
2024 1650 REBEL XL SPORT
Mercury 90 ELPT
All Cobalt blue boat
Vinyl main floor
2 Step Strap Ladder Port Side
24 v Upgrade
Galvanized bunk trailer
Aft flip-up seat vinyl
Aluminum Prop
Kicker Kmc1 Stereo with 2 speakers
Load Guides Galvanized
Mercury Mechanical Engine Control
Multifunction Gauges
Phone Charger
Plastic Bunk Upgrade
Primary Engine - Not Installed
Spare Tire - Galvanized
Sport Top w\ Walkway Curtain
Tilt Steering Upgrade w/ Seat Slider
Travel Cover
$37,466.25 plus sales tax and applicable fees
Alumacraft Boat Packages
Prices reflect options listed only
Prices include freight and prep
Prices do NOT include sales tax or fees*
2023 Alumacraft Escape 165CS
16n foot 6 inch boat w/ 76 inch beam
Third seat option
Aerated livewell
Navigation lights
Bilge pump
Yamaha 25 4stroke EFI w/ power trim motor
Load Rite 16150076DWT Galvanized trailer w/ tongue jack
$17,965 plus sales tax and applicable fees
2023 Alumacraft Classic 165CS
16n foot 4 inch boat w/ 82 inch beam
17 Gallon fuel tank
34 gallon Aerated livewell
Ample storage for rods & gear
Honda 50 4stroke EFI w/ power trim motor
Load Rite 17220090VT Galvanized bunk trailer
Travel Cover
$26,273 plus sales tax and applicable fees
*For Pennsylvania residents, sales tax at a rate of 6% will be collected at the time of purchase, along with clerical and state fees.
Residents of Philadelphia County will be charged an 8% sales tax rate and residents of Allegheny County will be charged a 7% sales tax rate.
Sales tax is not collected for non-Pennsylvania residents. Non-Pennsylvania residents are responsible for obtaining title and/or registration for their unit(s) in their state of residence as well as the payment of all applicable taxes and fees.
*Updated 10/18/23*